POC @ Streets of Willow TT and PDS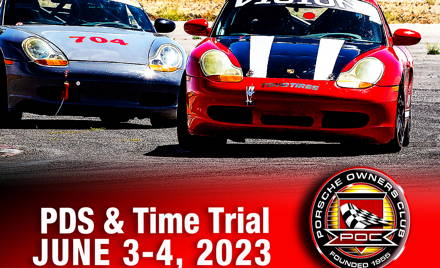 Porsche Owners Club
Saturday, Jun 3 — Sunday, Jun 4, 2023
Streets of Willow Springs
,
Rosamond

,

CA
Registration closed June 4, 2023 11:59 PM at 2023-06-04T23:59:00-0700 Registration ends June 4, 2023 11:59 PM at 2023-06-04T23:59:00-0700 Registration opens May 5, 2023 12:00 AM at 2023-05-05T00:00:00-0700 Registration runs from May 5, 2023 12:00 AM to June 4, 2023 11:59 PM


The Porsche Owners Club
Presents our 2023 Performance Driving Series (PDS) and Time Trial series at the
Streets Of Willow Road Course in Rosamond, California
Counterclockwise (Saturday) and Clockwise (Sunday) Direction
Streets of Willow Schedule 06-2023 Revision 1
Join us for the Porsche Owners Club's June event at The Streets of Willow. The weekend will feature a Performance Driving Clinic for our Performance Driving Series drivers along with our Time Trial classes. We plan to have one PDS and three Time Trial run groups (subject to change depending on the registrations). Each run group is scheduled for five lapping sessions. Run groups and final schedule will be based on the number and classes of registrants. Please note that the EARLY BIRD PRICING OFFER ends on May 19th at midnight. Lunch is provided on both days.
Check-in: Gates open at 6:30 AM. General registration is from 8:00 to 9:00 AM. New PDS drivers (PDS 0, Yellow Group) please register from 7:30 to 8:00 AM. Vehicle tech inspection should be performed at an official POC Tech Inspection Station. Tech inspection is available at the track but it is recommended that you complete Tech Inspection prior to the event as this makes for a smoother morning and avoids any last minutes discoveries which could reduce your track time.
The PDS Drivers Meeting is at 8:00 AM, sharp, at the Streets of Willow building. This Drivers Meeting is mandatory for all PDS Drivers. If you miss the meeting, you are subject to a loss of scheduled track time. All drivers, please read the Drivers Meeting notes here:
Streets of Willow Driver's Meeting Notes 06-2023
Entry information: "Early Bird Special" entry fee for POC Members is $425. After May 19th (midnight) the price rises to $475. POC Membership is required for entry. Entry for the event must be completed via motorsportsreg.com.
There will be an online meeting for the PDS drivers on Tuesday May 30 at 6:00pm. Meeting details and login will be provided to all registrants. Please read the Driver's Manual prior to that meeting and bring to the track (click on the following link).
For questions regarding the Performance Driving Clinic for the PDS registered drivers, contact Jim Salzer by phone or text at 949-300-1731 or by email at jsalzerdc@gmail.com.
POC Membership is required to participate in this event. If you are not already a POC member, first timers only, you can join now for only $1! That's a $94 savings!!! Use code: POCFOR1 when checking out.
Drivers and Cars: Limit of 2 drivers per car! This is a POC points event open to all makes of road cars. Complete waiver forms must be signed online during registration. Temporary car numbers will be issued if you do not have a permanent car number.
Please complete vehicle tech inspection prior to the event to avoid last minute car issues. If you are unable to complete tech prior to arriving at the track, a limited number of cars can be tech inspected at the track.
Safety equipment: Long sleeve cotton shirts and pants, shoes with socks, Snell SA2015 or newer helmet and street belts are the only requirements for PDS and Point-By Time Trial run groups. Open passing Time Trial classes require safety harnesses and fire suit (harness exceptions may be made for newer vehicles). Go to www.porscheclub.com to download the GCRs should you have any questions. At this track we highly recommend fresh brake fluid and sufficient brake pads.
Loaner Helmets: Loaner helmets will be available for rental at the track. If needed, please add a helmet rental to your online registration to expedite the process.
Transponders: All entries running for time MUST use a transponder, no exceptions. Please help us expedite registration at the track by adding a transponder rental to your entry prior to the event! We plan to run four groups based on lap times and experience.
Run groups are as follows:
Yellow PDS New Drivers and Less Experienced Point-By Passing Drivers
Blue TT0 Time Trial Drivers - Point-By Passing
Green TT1 Time Trial Drivers - Open Passing
Orange/Red TT2 Typically Cup Racing licensed drivers and very experienced TT drivers - Open Passing
Point-By Passing: Left side only with a point-by in specified sections for all Point-by-Passing groups. Open passing for the Green and Orange/Red groups.
Track Time: Each run group is scheduled for 100 minutes of track time on Saturday and Sunday. Please see the event schedule for detailed information.
Results & Awards: Results and acknowledgments will be made at the end of each day outside the Streets building.
Camping: Motor home camping will be permitted on Friday and Saturday nights. Be prepared to dry camp. Quiet time will be enforced from midnight to 6:00 AM.
Lodging:
POC group rate at: Hampton Inn & Suites Lancaster, 2300 Double Play Way, Lancaster, CA 93536 661-940-9194. Call and ask for the Porsche Owners Club Discount: King $119/night, 2 Queens $134/night
Springhill Suites 1811 W Ave J 12, Lancaster, CA 93534 (661) 729-2390
Oxford Inn and Suites, 1651 W Ave K, Lancaster, CA 93534 (661) 949-3423
Marriott Towneplace Suites, 2024 W Ave J8, Lancaster, CA 93536 (661) 723-6709
Holiday Inn Express, 43719 17 Street West, Lancaster, Ca 93534 Ph. (661) 951-8848
WSIR charges a $20.00 entrance fee at the gate. This one-time fee is good for the entire weekend.
Note that when you register you will be asked if you would like to receive text messages from POC. If you say "Yes", we will be able to send you text messages at the track when we have schedule changes or other items of general interest. We will not use the text capability to spam you away from the track. Please accept text messages as this is our best method of contacting you at the track.
POC contacts:
Director of Motorsports: Joe Wiederholt (858) 525-5278 or motorsports@porscheclub.com
Club President John Momeyer (661) 478-9561or president@porscheclub.com
Chief Driving Instructor: Dwain Dement 949-633-9455 or 949-770-2888 cdi@porscheclub.com
Competition Director: John Momeyer (661) 478-9561 cd@porscheclub.com