Porsche Owners Club @ Buttonwillow Raceway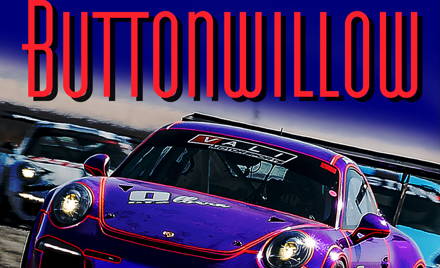 Porsche Owners Club
Saturday, Mar 12 — Sunday, Mar 13, 2022
Buttonwillow Raceway
,
Buttonwillow

,

CA
Registration closed March 14, 2022 12:59 AM at 2022-03-14T00:59:00-0700 Registration ends March 14, 2022 12:59 AM at 2022-03-14T00:59:00-0700 Registration opens February 3, 2022 12:00 AM at 2022-02-03T00:00:00-0800 Registration runs from February 3, 2022 12:00 AM to March 14, 2022 12:59 AM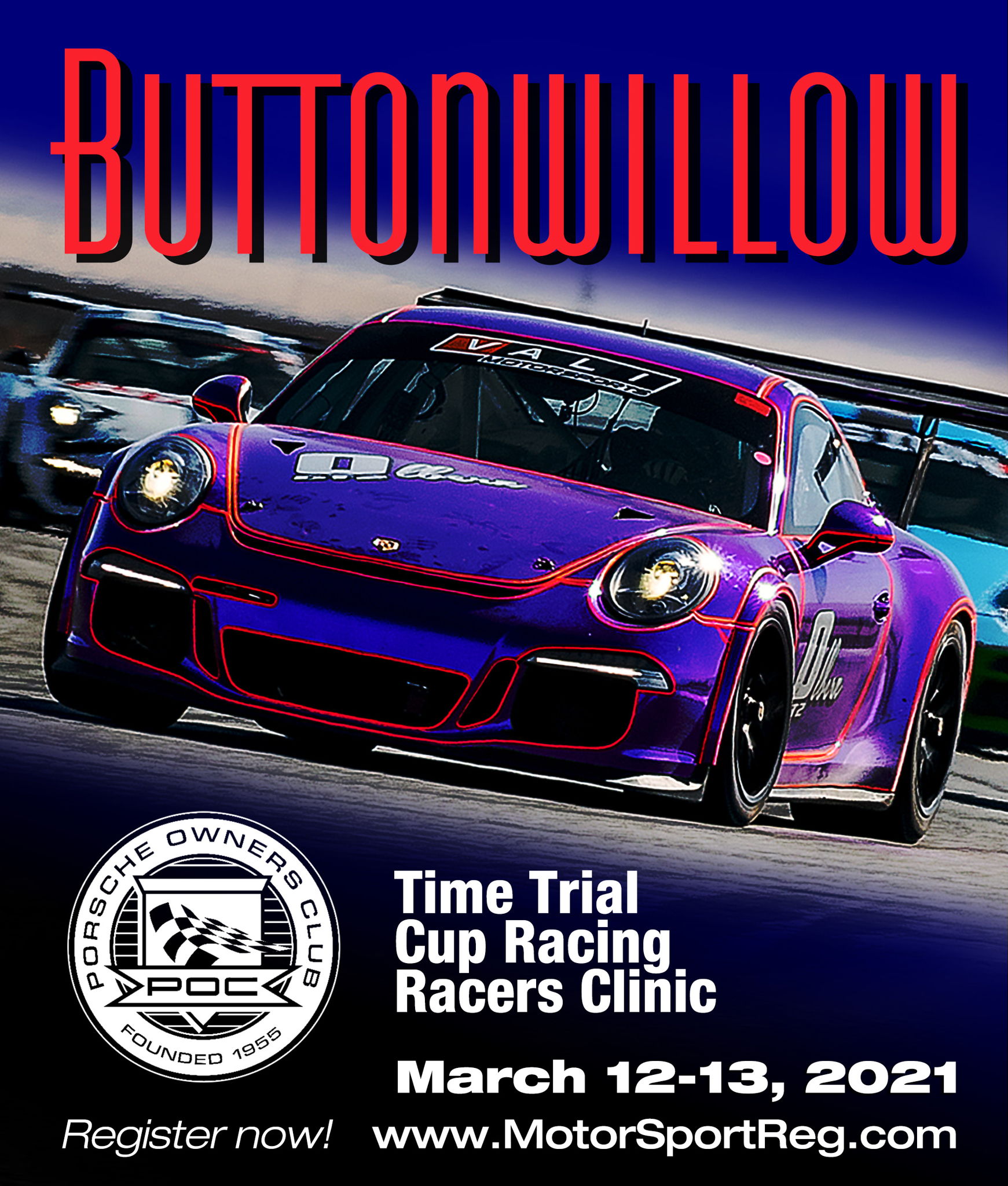 Buttonwillow Raceway Park
Time Trial (open passing and point-by), Cup Racing and our first Racer's Clinic of 2022 at the fabulous Buttonwillow Raceway Park.
We will run configuration # 1A Counterclockwise
The POC's Racer's Clinic will be available for all qualified applicants. Please request and submit your application forms to Joe Wiederholt at motorsports@porscheclub.com for consideration. Expect great instruction and one of the most exciting weekends of your life!
Here is the Racer's Clinic application: POC Racers Clinic application - version 02-08-22
Here is the schedule for the weekend Buttonwillow schedule - 2022
In addition to an in-person Drivers Meeting, the following notes are provided. Please read them!
March 2022 Buttonwillow Drivers Meeting notes
Please note our special EARLY BIRD PRICING OFFER ($50 discount) for this event expires Friday February 26th at midnight.
Come join us for an exciting weekend at Buttonwillow Raceway Park featuring Cup Racing (CR), Time Trial (open passing and point-by) and Racer's Clinic groups.
Registration will be available Saturday morning and Sunday morning at John Momeyer's trailer. Cup Racers, Time Trial and Racer's Clinic participants must present your vehicle logbook at check-in, complete with an inspection stamp from an approved POC Tech Station. We will use SpeedWaiver to confirm registration and handle signature of required waivers.
Vehicle tech inspection should be completed before you get to the track to avoid check-in delays and last minute repairs. Please schedule an inspection at one of our approved tech stations prior to the event. Tech inspection at the track will also be provided by PRO Motorsports and Vali Motorsports. The cost is $20, payable to POC.
Tire service: Buttonwillow Raceway Park Tire Center will be providing tire services. They are located in the middle of the paddock and offer American Racer, Avon/Cooper, Goodyear, Hankook, Hoosier, and Toyo tires. They can be reached at (661) 764-5333 or tires@buttonwillowraceway.com for orders.
Fuel: Buttonwillow Raceway Park Fuel Center will be providing VP 110 leaded and street legal 91 and 101 unleaded fuel at the track both days. Purchases can be made at the automated self-serve credit card pumps on Friday, Saturday, and Sunday. Contact the track office at (661) 764-5333 or fuel@buttonwillowraceway.com with any fuel questions or for latest pricing.
Friday Testing: Buttonwillow Raceway Park is offering Friday testing in our chosen configuration (1A CCW). The cost is NOT included in your POC registration. Contact the track office for details at (661) 764-5333 or info@buttonwillowraceway.com
Garage Rentals: Garage rental space is limited. Please contact the track office for pricing and availability at (661) 764-5333 or info@buttonwillowraceway.com
Directions: Buttonwillow Raceway Park, 24551 Lerdo Highway, Buttonwillow, California 93206. Interstate 5 freeway, Lerdo Highway exit, west on Lerdo Highway for 0.5 miles to Cal Club Rd.
Lodging: Courtyard by Marriott, Bakersfield, 3601 Marriott Drive Bakersfield, CA 93308 Call 844-201-1209 POC rate of $120 per night through 2/25/22
Holiday Inn & Suites, 3927 Marriott Dr. Bakersfield, CA 93308. Call (661) 377-8000.
Camping: Buttonwillow Raceway Park offers a 43 space RV Park with electricity and water hook-ups. Contact the track office at (661) 764-5333 or rvpark@buttonwillowraceway.com to make reservations. Motor home dry camping will be permitted on Friday and Saturday nights. Quiet time will be enforced from 12 AM to 6 AM. There are permanent bathrooms with showers available at the track.
Saturday: Gates are open 24hrs. There is a mandatory Drivers Meeting for PDS drivers. Track goes hot at 8 am.
Sunday: Gates are open until track closes at 6pm. Track goes hot at 8 am.
Buttonwillow Raceway Park charges an entrance fee (per person) at the gate. This one-time fee is good for the entire weekend.
Note that when you register you will be asked if you would like to receive text messages from POC. If you say "Yes", we will be able to send you text messages at the track when we have schedule changes or other items of general interest. We will not use the text capability to spam you away from the track.In the interest of social distancing, please accept text messages as this is our best method of contacting you at the track.
POC contacts:
Director of Motorsports: Joe Wiederholt (858) 525-5278 or motorsports@porscheclub.com
Club President: John Momeyer (661) 478-9561 or president@porscheclub.com
Chief Driving Instructor: Dwain Dement 949-633-9455 or 949-770-2888 cdi@porscheclub.com
Competition Director: John Momeyer (661) 478-9561 cd@porscheclub.com