POC@ Chuckwalla Valley Raceway DOUBLE POINTS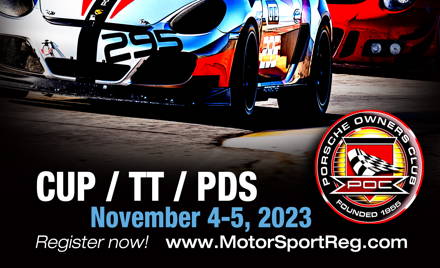 Porsche Owners Club
Saturday, Nov 4 — Sunday, Nov 5, 2023
Chuckwalla Valley Raceway
,
Desert Center

,

CA
Registration closed November 5, 2023 5:59 PM at 2023-11-05T17:59:00-0800 Registration ends November 5, 2023 5:59 PM at 2023-11-05T17:59:00-0800 Registration opens October 1, 2023 12:00 AM at 2023-10-01T00:00:00-0700 Registration runs from October 1, 2023 12:00 AM to November 5, 2023 5:59 PM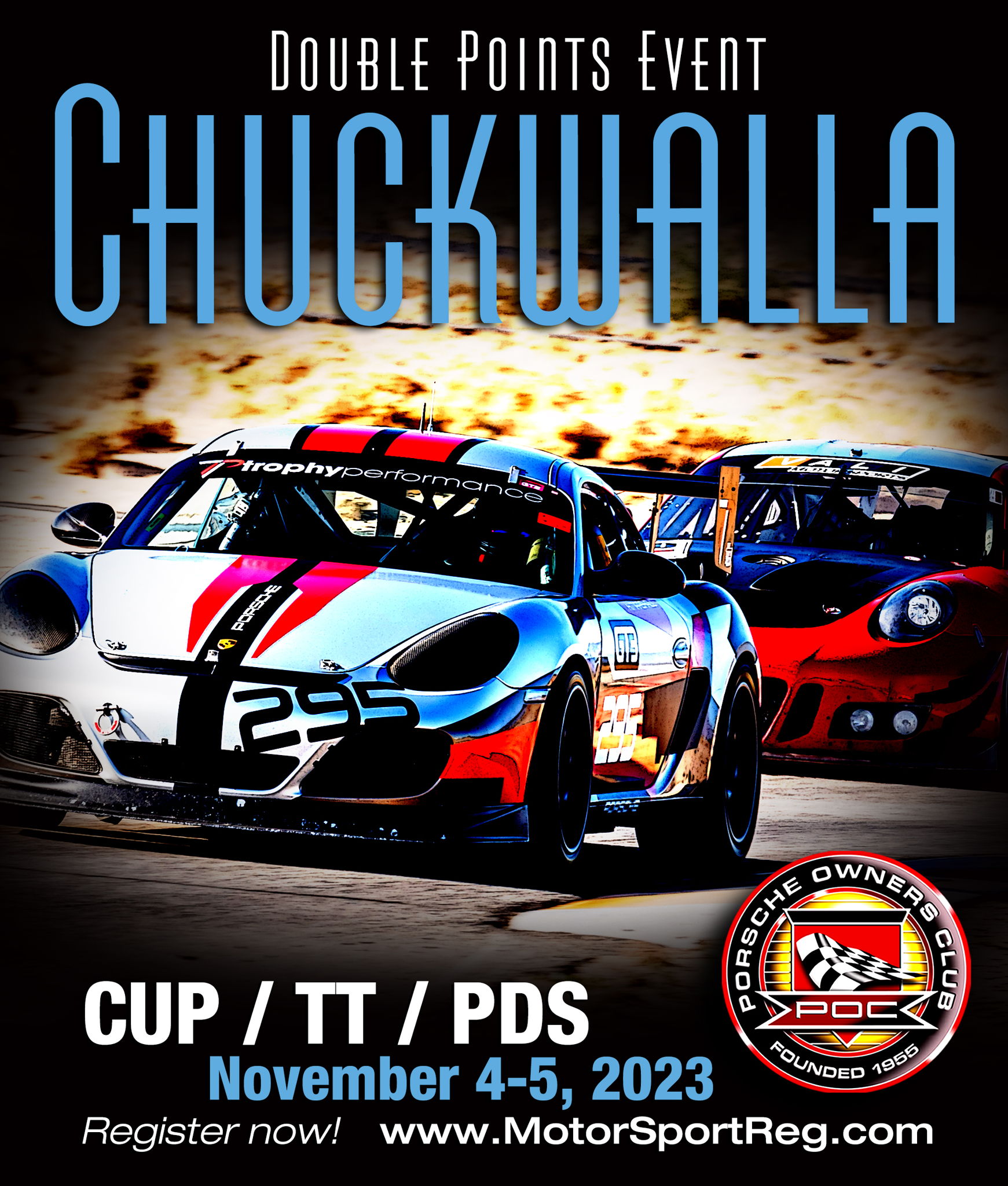 Chuckwalla Valley Raceway, Desert Center, California
Join the POC for an exciting weekend at Chuckwalla Valley Raceway. We're hosting our Red and Orange Cup Racing groups, Time Trial Point-By Passing and Open Passing groups), and our Performance Driving Series (PDS) at this super fun 2.68 mile road course. We will be running in the Counter Clockwise direction.
Chuckwalla Valley Raceway will host a test day (Promoter's Day) on Friday. I you would like some additional practice or track time, follow the link below.
Drivers Meeting content is provided in a set of notes (Chuckwalla Drivers Meeting notes 2023). There will also be in-person Drivers Meetings (check the schedule for details).
Chuckwalla Schedule: 2023 Chuckwalla Schedule
The PDS group is designed for entry level and less experienced drivers and an instructor will be assigned to each PDS entrant. Instructors will provide both in-car and out of car coaching.
For the PDS group, the mandatory drivers meeting will be via Zoom on TBD. Meeting details and login will be provided to all registrants. Please read the Driver's Manual prior to that meeting and bring to the track (click on the following link).
For questions regarding the PDS program, contact Jim Salzer by phone or text at 949-300-1731 or by email at jsalzerdc@gmail.com.
POC Membership is required to participate in this event. If you are not already a POC member, first timers only, you can join now for only $1! That's a $94 savings!!! Use discount code: POCFOR1 when checking out.
Registration will be available Friday evening (at John Momeyer's trailer in the paddock), Saturday morning (near the classroom) and Sunday morning (at John Momeyer's trailer in the paddock). We will use SpeedWaiver to confirm registration and handle signature of required waivers.
Please note the EARLY BIRD PRICING OFFER ($50 discount) for this event expires two weeks prior to the event at midnight. POC membership is required, you can renew or join on the registration page. Last minute registration at the track will be $100 higher than online pricing-no exceptions so register early.
Cup Racers and Time Trial participants must present your logbook at check-in, complete with an inspection stamp from an approved POC Tech Station.
The gates will open Friday at 6 PM for those staying in cabins or wishing to camp at the track and stay open throughout the night for those arriving late.
Vehicle tech inspection should be performed at an official POC Tech Inspection Station before you get to the track to avoid check-in delays and last minute repairs. Tech inspection at the track will be provided by PRO Motorsports and Vali Motorsports. The cost is $20 payable to POC.
Tire service: Tire mounting and balancing will be available from Vali Motorsports.
Note that when you register you will be asked if you would like to receive text messages from POC. If you say "Yes", we will be able to send you text messages at the track when we have schedule changes or other items of general interest. We will not use the text capability to spam you away from the track.
Fuel: Leaded 110 and unleaded 91, 95.5 and 100 race fuel will be available at the track both days.
Directions: Chuckwalla Valley Raceway, 25300 Rice Rd., Desert Ctr., California 92239. Interstate 10 freeway East towards Phoenix. Exit Rice Road / Highway 177, at Desert Center and go north approximately 4 miles to the track entrance on the right.
Lodging: Chuckwalla Raceway has cabins available for rent, they are most likely full at this point. You can read about them here and make your reservation on their webpage: https://chuckwalla.com/cabins
Lodging:
Holiday Inn Express 84054 Indio Springs Road, Indio CA 92203 PH: (442) 400-3000 or email info@hieindio.com and ask for the Porsche Owners Club discount.
Usual rate is $259, POC discount is $199+ tax for either double queen or king.
Quality Inn, 84096 Indio Springs Dr. Indio 92201 PH: (760) 342-6344 call and ask for the Porsche Owners Club discount.
Camping: Motor home camping will be permitted on Thursday/Friday/Saturday nights @ $15 per vehicle. Be prepared to dry camp. Quiet time will be enforced from 10 PM to 6 AM.
Photography: Luis Vivar is providing POC with photographs this weekend and is pre-selling packages at Luna Pics - Presale
POC contacts:
Director of Motorsports: Joe Wiederholt (858) 525-5278 or motorsports@porscheclub.com
Club President: John Momeyer (661) 478-9561 or president@porscheclub.com
Chief Driving Instructor: Dwain Dement 949-633-9455 or 949-770-2888 cdi@porscheclub.com
Competition Director: John Momeyer (661) 478-9561 cd@porscheclub.com